East Bank
Leave Fochabers and turn right/north on to the Speybay road. After about 1.5 miles, turn left on to the dirt track, and open the gate which has a Fochabers Angling Association sign on it and combination lock. The Forestry Commission insists that you must close and lock the gate.
Follow the track until you come to two riverbank huts. This is Cumberland Pool in the middle of the beat. Most pools on this side can be accessed by vehicle and you can park by the side of the pool of your choice.
Access tracks are easily rutted, and we ask all vehicles to observe a 10mph limit.
West Bank
Leave Fochabers, cross the Spey bridge, past Baxters, and turn right at the roundabout and then left into Mosstodloch. Take the first road on your right - Stynie Road - on the Mosstodloch straight, signposted Speymouth Parish Church. This is 0.6 miles past the bridge. Drive for 1 mile, past the Red Kirk on the corner on your right (at 0.5 mile), and you will come to our small gated car park on your right after another 0.5 mile. This gate is just 100 metres past the Old Manse, Speymouth on your left. You must park your car here and walk down to the river.
There is no vehicular access to the riverbank from this side, and those wishing to fish the bottom pools, have a longer, though easy walk. It is a 10 minute walk to Cumberland and another 10 minutes to Braehead. This is a designated "special area of conservation" and you must stick to the well defined paths.
Please be aware however, that initial access is gained by using steep roughly constructed steps, and wading access to the Quarry pool is by a number of short ladders. This then is recommended only for fit and able anglers.
Sketch Map
Please click on the map to view it in a new, easy-print page: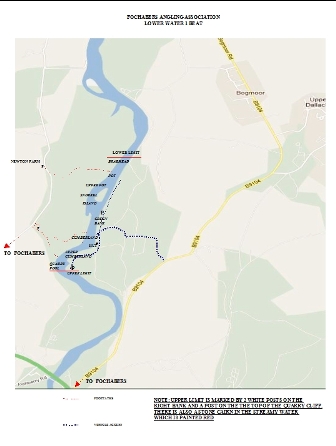 Copyright © Fochabers Angling Association 2007 | Web Design:
TenderSoft